Motorcycle riders have a bad reputation for being reckless and dangerous drivers. With the ability to move quickly between vehicles, some riders take advantage and put others on the road in serious danger. However, most motorcyclists are not pulling aggressive moves when out for a ride, and are more likely to become the victim of other driver's careless behaviors.
The National Highway Traffic Safety Administration (N.H.T.S.A.) reports that motorcyclists are 28 times more likely to be killed in a fatal traffic accident than individuals operating all other types of motor vehicle. At least 5,172 motorcycle fatalities were reported back in 2017 and 62 percent of these accidents involved multiple vehicles such as passenger cars and trucks. Between increased driving distractions, poor road design, and excessive speeding, it's becoming more deadly than ever for motorcycle riders to share the roads with other vehicles, even when they follow all the traffic laws themselves.
Spring is the beginning of cruising weather for avid motorcyclists around the country. To spread awareness on how to keep riders safe on the road this season, May is the kickoff of Motorcycle Safety Awareness Month. By encouraging others to say alert and spreading the word on the dangers of not sharing the roads with motorcycles, you can help keep Maryland motorcyclists safe in hopes to reduce the risk of serious and fatal accidents in the future.
Motorcycle Statistics To Know
The Insurance Institute for Highway Safety (I.I.H.S.) reports that motorcycle deaths accounted for at least 14 percent of all motor vehicle crash deaths in 2017. Among the 5,172 motorcyclists killed in 2017…
38% involved a single vehicle (the motorcycle).

62% involved multiple vehicles.

36% of motorcycle fatalities involved riders over the age of 50

28% of motorcycle fatalities involved riders under the age of 30

91% of riders who were killed were male

59% of individuals who died in motorcycle accidents were passengers

58% of motorcycle deaths occurred between May- September.

48% of motorcycle deaths occurred on the weekends.

49% of motorcycle drivers were killed at night, between 9 p.m. and 6 a.m.

1,908 of the people who were killed were not wearing helmets.
Cruiser/standard motorcycle models appeared to have the most fatal crashes, resulting in 1,570 deaths overall. Though all roads can pose a risk to motorcyclists, non-interstate major roads posed the most danger for riders in 2017, responsible for 2,726 of the 5,172 fatalities. Other types of roads where fatalities occurred included minor roads (1,666) and interstates and freeways (615).
Most Common Motorcycle Injuries
In October 2018, Richard Plunkard was riding his motorcycle in Smithsburg, Maryland when he was struck by a car who failed to see him before they pulled out. According to Local DVM, Plunkard suffered from broken bones in his eye, elbow, shoulder, hip, and femur, an impacted eyeball in his skull, an amputated pinky finger, and the loss of one of his ankles- thankfully, he was wearing his helmet.
Catastrophic outcomes such as these are common when describing motorcycle accidents. Aside from minimal padding and a helmet, motorcycle riders have little protection in the case of an accident, particularly when they come head-to-head with a car or truck. Examples of some of the common injuries that can result from a motorcycle accident include:
Head Injuries- concussion, a cracked skull, traumatic brain injury, brain damage.
Muscle Injuries- strains, sprains, tears, paralysis.
Road Rash- skin irritations that can involve cuts, scrapes, and bruising leading to infections or nerve damage.
Leg Injuries- paralysis, nerve damage, scrapes, cuts, broken bones, and fractures.
Bikers Arm- injuries to the arm resulting from a biker using it brace themselves when falling on the road resulting in permanent injury.
The forceful impact on a motorcyclist's body caused by the road, a car, or a stationary object (bridge, median, pillar, etc.) can set them up for a life-long recovery and permanent injuries. When riders do not wear a helmet or padded clothing while riding, the risk of these injuries leading to fatal consequence skyrockets. The Center for Disease Control and Prevention reports the use of helmets saved an estimated 1,859 live in 2016. Helmets are proved to reduce the risk of death by 37 percent in the case of an accident and reduce the risk of severe head injuries by up to 69 percent.
MD Motorcycle Accidents 2019
Only nine days into 2019, Maryland saw its first fatal motorcycle accident in Annapolis when a motorcyclist died on I-97 after striking the center median. One month later, another motorcycle rider was struck and killed by a Jeep making a left-hand turn in Catonsville when they failed to see the motorcycle before the turn. Unfortunately, several other fatal accidents have been reported in Maryland since, and we have only just begun the busiest riding season.
In 2017, Maryland saw 1,449 motorcycle crashes according to the Maryland Department of Transportation: 83 resulted in fatalities, 1,027 in injuries, and 338 in property damage. Though the state saw a decrease in motorcycle accidents from 2016 to 2017, there are still far too many loved ones being taken from their families due to possibly preventable traffic accidents.
Dangerous Motorcycle Laws In MD
In Maryland, motorcycles are prohibited from riding between lanes of traffic (filtering) or from passing within the same lane (lane-splitting), but this may not be the case for long. Maryland legislatures introduced a bill in February of this year that proposed repeal of certain motorcycle laws in attempts to improve traffic congestion. According to The Baltimore Sun, the bill would allow motorcycle riders to ride between lanes on the highway during traffic jams and between vehicles that were stopped at traffic lights. The intention of allowing lane-splitting and filtering are not only to reduce carbon emissions produced by idling vehicles but to decrease the number of accidents for riders that can cause serious injuries when it comes to stop-and-go traffic.
However, other experts quoted believe motorcycle bills such as these only put motorcycle riders at more risk for accidents, not less. According to the article, AAA Mid-Atlantic opposed the bill stating both drivers and riders would be in more danger with lane-splitting available. Allowing motorcyclists to ride outside of the normal traffic pattern could leave them vulnerable to side-swipe collisions and crashes due to confusion regarding who has the right or way- a battle motorcyclists often pay for with their lives. While drivers could be caught off-guard by motorcyclists making risky (but legal) maneuvers, motorcycle riders would be unfairly put at risk, allowed to make traffic moves without the guarantee that they will safely be able to complete them.
How To Share The Road
Drivers of cars and motorcycles both have a responsibility to keep each other safe on the road. Because motorcyclists have minimal protection in the case of an accident, drivers of cars and trucks must keep a close eye out for these vehicles to prevent a collision. Safely Home provides these tips for drivers and motorcyclists to help them avoid becoming a statistic this riding season:
Drivers:
Check your blind spots, especially when changing lanes.

Be mindful and considerate to motorcycles on the road.

Keep a safe distance when driving near a motorcycle.

Give motorcycles a full lane of travel.

Use your turn signals well in advance for motorcycles to anticipate your moves.

Take the time to see where a motorcycle is going. Most motorcycle turn signals are not self-canceling.
Riders:
Always use your turn signals.

Wear your helmet (preferably full face) and protective gear on every ride.

Know your vehicle and how to operate it safely.

Keep your speeds low and appropriate for your surroundings.

Watch for inclement weather.

Drive defensively at all times.

Avoid being in a vehicle's blind spot- stay visible.

Wear bright colors or reflectors for night time riding.

Never ride a motorcycle you are not licensed and trained to drive.
Baltimore Winning Motorcycle Accident Attorneys - D'Amore Personal Injury Law
Attorneys at D'Amore Law are dedicated advocates for motorcycle safety. We believe everyone has the right to ride safety on our roads, not just cars and trucks. Motorcyclists shouldn't have to accept injuries and accidents because drivers of other vehicles are neglecting to watch for them. Click here to find out more about how our committed team has stood up for the rights of motorcyclists in Maryland.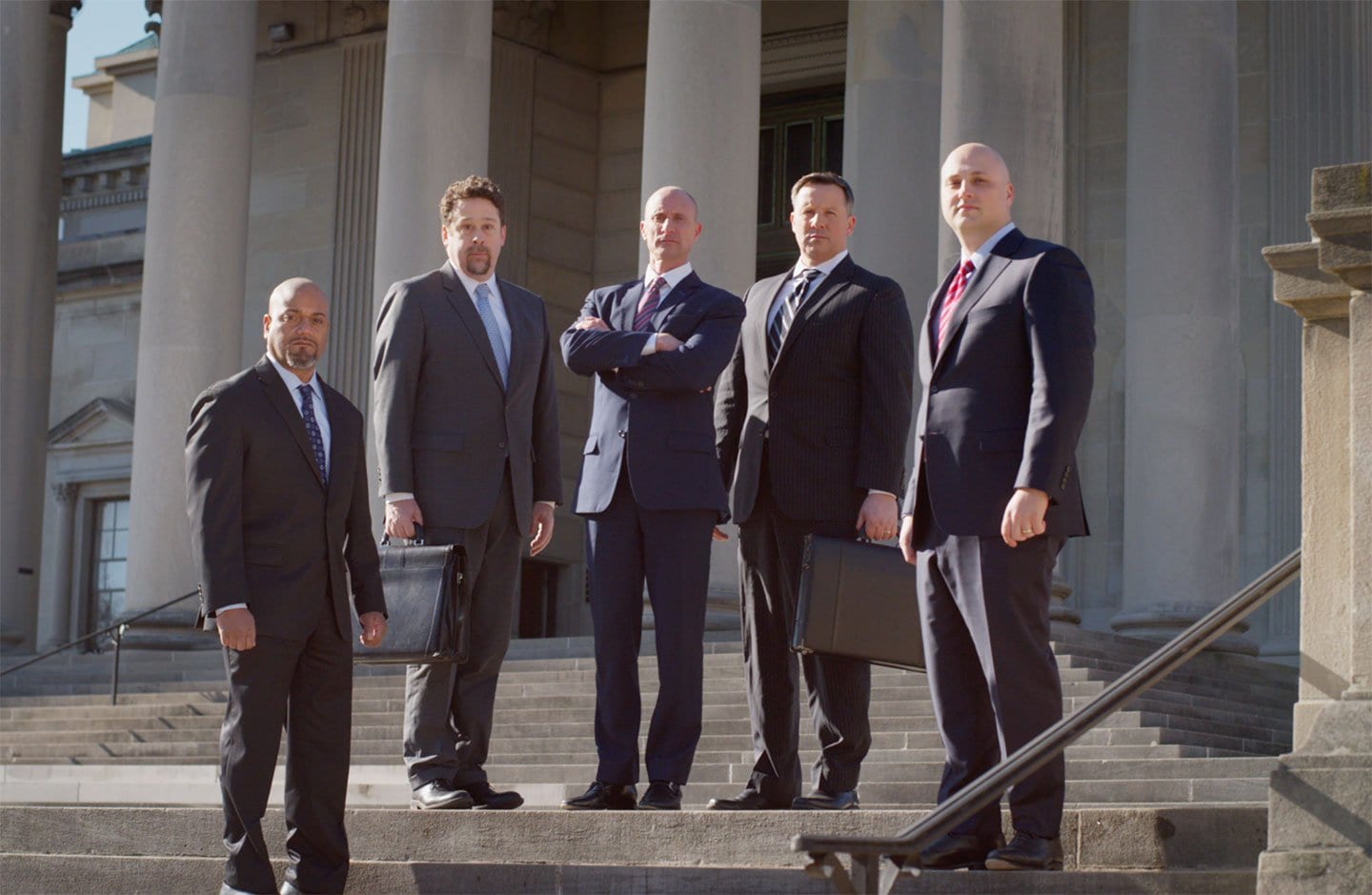 Our Maryland motorcycle accident lawyers have the trial experience to protect your rights and fight for the compensation you need and deserve. Don't Get Mad...Get Justice! Call 1-800-JUSTICE or fill out an online contact form to get the justice you deserve. You will reach one of our successful motorcycle accident attorneys to review your case. Our consultation is free, and there is no fee unless we win!