As avid advocates for people with disabilities, our team at D'Amore Personal Injury Law is always on the lookout for new and innovative technologies to better the lives of those who need it most.
With the help of Assistive Technology Blog, Medgaget, and other experts in the adaptive tech industry, take a look at some of the coolest gadgets on the market for people with disabilities, and some of the mind-blowing ideas that are just around the corner:
Y-Brush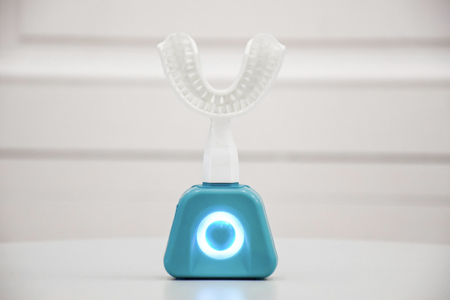 Teeth brushing can be more complicated for people with disabilities than you think. Created by French company FasTeesH, Y-Brush is a new oral hygiene device in the shape of a tray that could be extremely beneficial for those who have limited mobility of their hands and arms. It only takes 10-seconds to brush with this system and doesn't require constant hand motions to get the job done right.
Robotic Pooper Scooper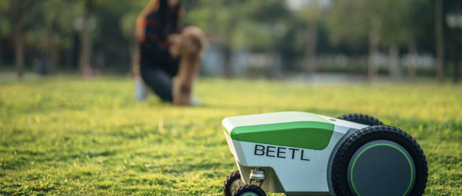 Dogs can be a significant source of comfort and companionship for people with disabilities. But picking up poop is another task that can prove to be fairly difficult. This robotic pooper scooper could change the way everyone picks up after their dogs. Beetl Robotic's Poop-Scooper prototype drives slowly around the yard, picks up poop, seals it in a compostable bag, and dumps the bags into an in-ground bin (provided with the device) when full!
Lucy 4 Keyboard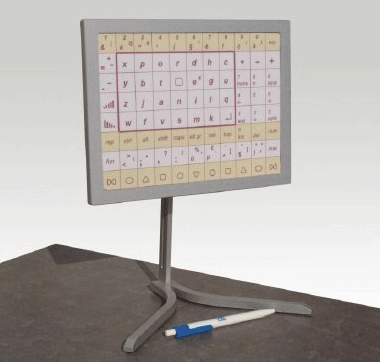 This tool helps people with little to no use of their hands to operate a computer; one of the most necessary pieces of equipment for most modern-day jobs. According to Mashable, the Lucy 4 Keyboard was created by a woman with cerebral palsy and works by mounting a battery-operated laser point on the user to select keys from a custom stand-up keyboard.
Dot Watch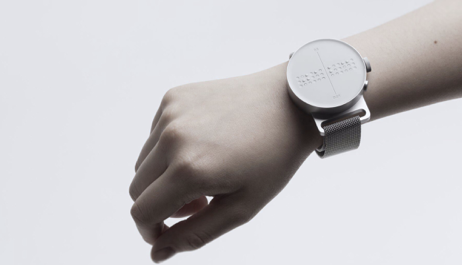 Now that most of our devices rely heavily on touch screens, multiple companies have begun releasing Braille-enabled smart devices for the visually impaired. The Dot Watch is the first tactile smart watch that features a 4 cell Braille display. Similar to other smart watches on the market, the Dot Watch can connect to Bluetooth to receive notifications, alerts, and messages from your phone!
Adaptive Video Games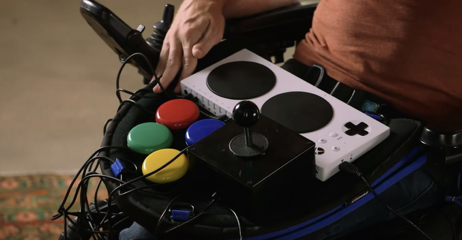 Video games have come a long way since the first handheld controllers hit the scene in 1958. Advancements in the gaming industry are providing a whole new group of gamers, who were previously unable to work the complicated controllers, equal access to some of the most popular games on the market.
The Xbox Adaptive Controller, released in September 2018, is one of the most popular gaming gadgets for people with physical disabilities. The controller connects a network of devices together to help people customize their games to their abilities, including the use of joysticks, foot pedals, switches, and the Quadstick FPS Game Controller- a mouthpiece controller designed for quadriplegic players.
Some people have taken this adaptive controller a step further to make it even more accessible to people with disabilities. Freedom Wing Adapter is a new platform for video game fans who use power-operated wheelchairs. This spectacular device plugs directly into the wheelchair to connect it with an Xbox Adaptive Controller and then allows the player to use their everyday muscle memory to control the game on their screen.
Another man in the United Kingdom has gone viral for his redesign of an Xbox Adaptive Controller to fit the needs of his two children diagnosed with spastic paraplegia. His children's severely impacted motor skills made it difficult for them to play the games they desired on the small buttoned Nintendo Switch. So this amazing dad redesigned an Xbox Adaptive Controller to hook up to the console to allow his children access to more complex games!
Lace Free Nikes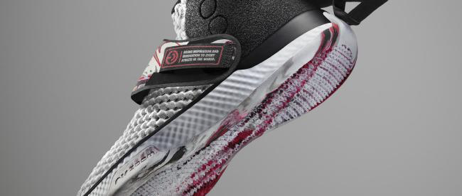 Nike recently released its new Air Zoom UNVRS with FlyEase Technology that allows people with special needs to slide hands-free into a pair of stylish sneakers. The shoe features a magnetized heel that expands to allow your foot to enter easily, then snaps back to close. The new design was marketed by WNBA player Delle Donne, who was looking for a shoe that was accessible for her sister, who has cerebral palsy and autism.
Chord Assist
This innovative instrument makes learning to play the guitar more accessible. Chord Assist, created by developer Joe Birch, is an accessible guitar with a built-in computer that features cloud connection capability, an LCD screen, a Braille display, and a speaker. The guitar's design was inspired to help individuals who are blind, deaf, or mute, to create their own music in a non-traditional form.
Smart Bandages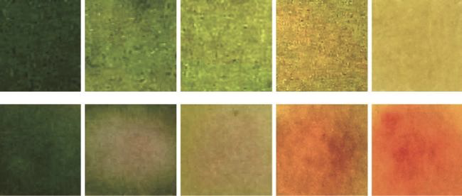 This color-changing Smart Bandage, presented by researchers in China, could significantly assist disabled patients with at-home wound care. First appearing green in color, the bandage changes to yellow to alert a patient if a bacterial infection is present- but that's not all. The bandage also releases a built-in antibiotic to treat bacterial infections when detected, and turns red if it detects a viral infection that antibiotics cannot remedy.
Wearable Skin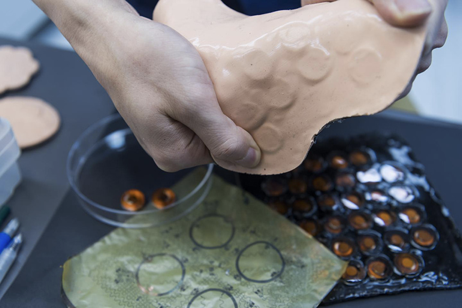 This new technology is mind-blowing! Researchers from Hong Kong and Northwestern University announced the development of wearable "skin": a medical drive capable of providing a sense of touch to people with prosthetic limbs . The "skin" is created using a variety of chips and small antennae that produce a mechanical effect on the skin, resulting in amputees being able to feel sensations.
Powered Exoskeletons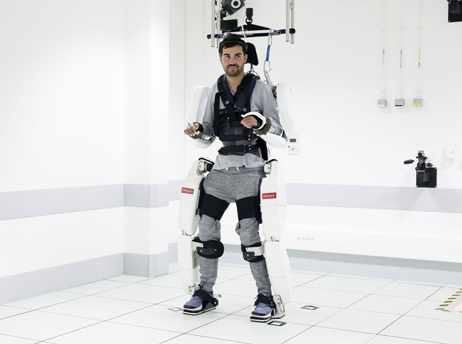 This powered exoskeleton could be another breakthrough invention to look out for in the future. A research team in France was successful in helping a paralyzed man take his first steps in two years using autonomous technology. Unable to move his arms and legs after a spinal cord injury, the patient was able to operate the exoskeleton through surgical implants that can read signals from the brain!
Sign-IO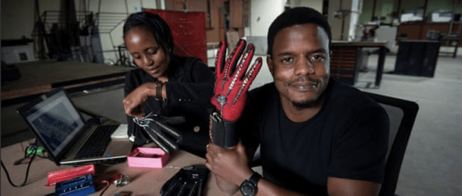 People who rely on sign language should not have to be limited to only communicating with others who can sign. Sign-IO is a smart glove that was invented by Roy Allela from Kenya, who was having difficulty communicating with his deaf nieces. The smart glove converts sign language into spoken words so that the wearer can participate in conversations with whoever they are with.
ADA Robot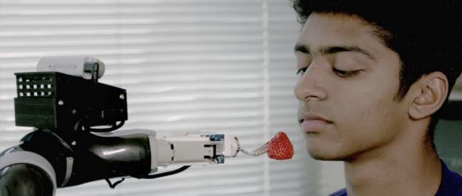 This robotic arm could be the future of independent living for thousands of people with severely impacted motor skills. ADA (Assistive Dexterous Arm), designed by researchers at Washington University, is a personal robotic arm that can be attached to a motorized wheelchair and customized to the mobility needs of a person with disabilities. ADA helps to feed individuals who have trouble completing the task on their own, without the need to depend on someone else.
Adaptable Airplane Wheel Chair
Airports can be a nightmare for people in wheelchairs. But this new award-winning design could be a game-changer. According to Runway Girl Network, this Row 1 airport wheelchair system would eliminate the need for multiple seat transfers during travel and allow passengers to use the same wheelchair from check-in to landing. It's still in the design process, but the idea has sparked a whole new direction for providing accessibility when it comes to air travel.
If you have an adaptive invention you want to share, connect with our social media pages below!
Baltimore Health Advocates and Winning Accident Attorneys - D'Amore Personal Injury Law
At D'Amore Personal Injury Law, we believe justice starts with giving our clients confidence and hope. We pride ourselves on our ability to fight for those who are wrongfully injured through ethical, honest, and client-focused methods. Our successful team of Maryland accident attorneys works tirelessly to achieve the goals our clients desire and to fight for the compensation they deserve to get back on their feet.
Let us prove how we can work together towards a better tomorrow for you and your family. Our consultations at D'Amore Personal Injury Law are free, and there is no fee for representation unless we win. Call 1-800-JUSTICE or fill out an online contact form to connect with one of our knowledgeable medical malpractice attorneys and begin your journey to justice.